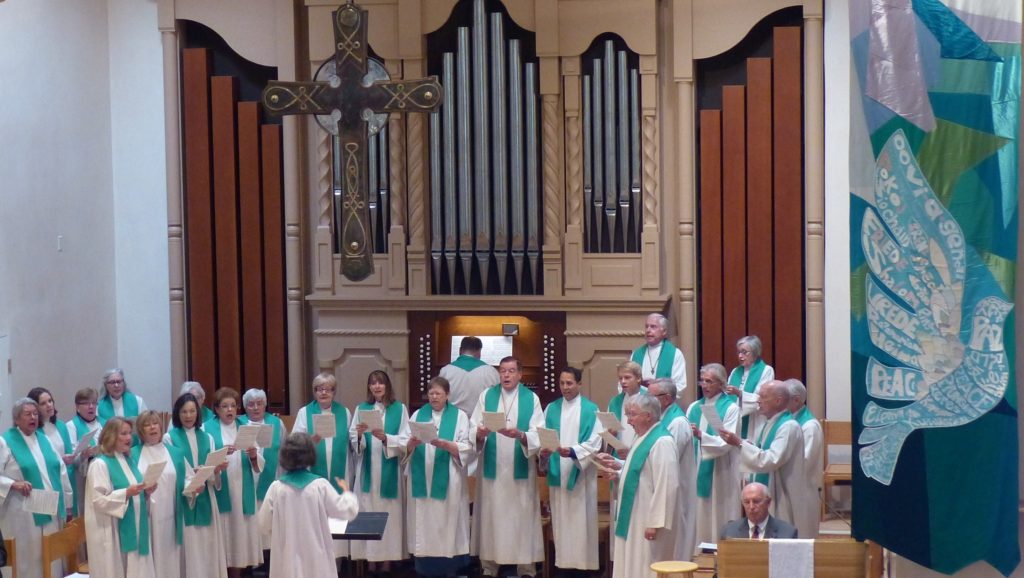 The Chancel Choir of First Presbyterian Church is a group of singers that provides music for Sunday morning services throughout the year.  In addition to singing hymns with the congregation during the services, the group performs a significant piece of music for each Sunday service and provides choral responses during the service.  If you enjoy singing, we encourage you to join the choir.  If you enjoy listening, we hope to see you at services and special concerts.  The choir seeks those who are accomplished singers and who would like to contribute to the musical life of the church.  Please submit a choir registration form, available from Linda Raney.
Program for Fall, Winter, and Spring
Every year the choir prepares a special piece for presentation throughout a particular Sunday service.  For All Saints' Day, 2016, Requiem by our own Linda Rice Beck was presented at both the 8:30 and 11:00 Sunday services.
The anthems sung for Sunday services are associated with the liturgical season and are an important part of the service.
Summer Program
Our church is fortunate to participate in The Santa Fe Opera's Apprentice Program that provides churches in Santa Fe with singers for their Sunday services during the summer.  These young singers share their extraordinary talents with the congregation and are always welcome by the congregation.
Choir Rehearsal Schedule
The choir has a robust rehearsal schedule that includes weekly Tutti rehearsals on Thursdays from 6 to 8 p.m.  Sectional rehearsals are held in the Music Room for tenors and basses on Wednesdays at 1:30 p.m. and Thursday at 5:00 p.m., and for sopranos and altos on Sundays from 9:45 to 10:30 a.m. Occasionally there are special rehearsals on Saturday mornings.
Sanctuary Practice Schedule
Our sanctuary and organ are scheduled in advance for practice sessions.  Please contact Linda Raney to schedule practice time.
Anthem Schedule for 2017 (Winter/Spring). All times are Sunday at 11:00, except where noted.
Date
Service Time
(other than 11:00)
Seasonal Day
Anthem and Composer
January
1
Christmas 2
O Redeemer-Praetorius
8
Baptism of Christ
Alleluia Sing to Jesus- Schneider
13
TGIF 5:30 pm
Requiem- Linda Beck
15
How Lovely- Beatty
22
Precious Lord-Servier
29
Arise my Love-Beatty
February
5
Set Me As A Seal-Clausen
12
Like as the Hart- Howells
19
The Lord's Prayer-Mathias
26
Now There Lightens Upon Us-Leo Sowerby
March
5
Lent 1
Just as I Am-Steward
12
Lent 2
Peccantem me quotidie-Morales, p. 27
19
Lent 3
Pilgrim's Hymn-Paulus
26
Lent 4
Crux Fidelis-Beatty
April
2
Lent 5
Agnus Dei-Thomas Morley, p. 33
9
10:00 am
Palm Sunday
Pueri Hebraeorum- Victoria, p. 94
13
5:30 pm
Maundy Thursday
Were You There?-Bob Chilcott
14
TGIF 5:30 pm
Good Friday
A Service of Darkness by Dale Wood
16
8:30 & 11:00
Easter Sunday
Christ the Lord is Risen again-John Rutter, p. 194
23
Easter 2
Most Glorious Lord of Life-William Harris, p. 182
30
Easter 3
For the Beauty of the Earth-John Rutter
May
7
Easter 4
Come Risen Lord-Leo Nestor
14
Easter 5
Ave Maria by Franz Biebl
21
Easter 6
Alleluia Christus surrexit-Felice Anerio, p.156
28
Easter 7
The Lord is My Shepherd-John Rutter
June
2
TGIF 5:30 pm
Five Mystical Songs Vaughan Williams
4
Pentecost
Veni Sancte Spiritu-Anthony Bernarducci