Circle of Friends
Circle of Friends is an open group with the purpose of spiritual growth, for women new or old to the church and community, who seek a deeper connection with other women in a smaller group. Circle of Friends meets in homes for refreshments and thoughtful conversation, sometimes based on shared reading materials, sometimes based on life journeys. It is a very informal group, women attend when able, and all feel free to attend with or without having done any of the reading. Your voice and ideas will be honored. You are warmly invited to drop in and find out what we are all about.
This group meets on the second Saturday of the month from 10 a.m. to noon during September through May. This Fall we are beginning the book The Breath of the Soul: Reflections on Prayer by Joan Chittister.
For more information and meeting location, feel free to contact Jenny Harland at harlandjn@gmail.com.
Presbyterian Women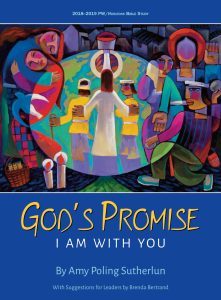 Presbyterian Women (PW) is the national women's organization of the Presbyterian Church (USA). Our local organization, PW Circle, meets at the church at 10:00 a.m. on the second Wednesday of every month from October through May in the Rendon Room (first floor). Each week the Circle covers one lesson about Bible study from Horizons, a magazine published for Presbyterian women.
The Bible study program for 2018-2019, which begins this fall, is entitled God's Promise: I Am with You. This study takes readers on a journey through scripture to consider circumstances in which God articulated God's promise of presence. This study does not delve deeply into manifestations of God's presence but rather on God's actual articulation of God's promise. We will see anew that God offered these words of profound comfort and commitment to individuals and communities from the time of the patriarchs to that of the prophets; from the judges to the kings; before, during, and after the exile; into the New Testament and beyond, to the end of the age.
On the first Sunday of December at the church, PW Circle conducts Alternative Christmas Market, which supports mission through the sale of baked goods and other items and includes the presence of other local groups who sell products to support their particular missions. This is always an important and festive day in the life of our community.
Our PW Circle supports national and international PW missions. Mission projects for 2017 include funding for the First Hand Aid Rural Clinic Development Initiative in Cuba, for The Family Justice Center Safe Haven for Domestic Violence in South Carolina, and for the Navajo Water Project in New Mexico.
Newcomers are always welcome at PW Circle. For more information about Presbyterian Women, please contact Jean Ball or Helen Sutton.