WE NURTURE
The church is very much concerned with helping and nurturing its members and friends and provides these programs for that purpose.
Blood Pressure Program
Deacons provide blood pressure assessments to congregants on the fourth Sunday of each month between services at the church.
Care Team and Friendship Program
This program provides support for those who are ill, hurting, or homebound, including those in extended
care facilities.  The Care Team, in coordination with the Deacons, shows compassion to both members of the congregation and friends in the community through phone calls, visits, written encouragement, transportation, and other services. Each year, the program provides help to about seventy-five members and friends.  Anne Maglisceau can be contacted  for information about this program.
Deacons' Kitchen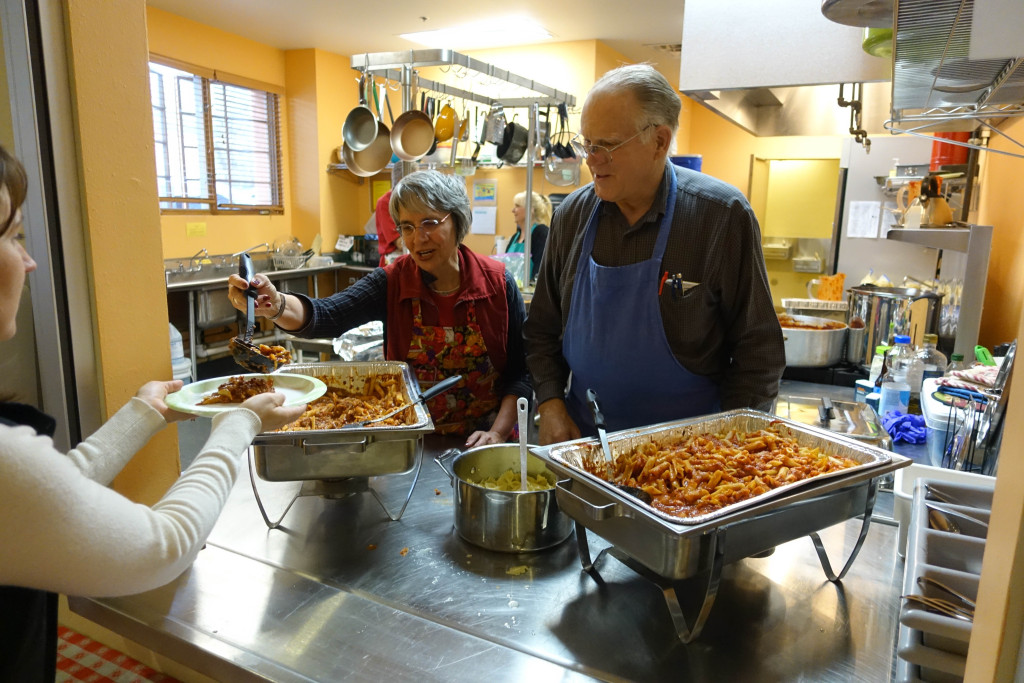 The program provides homemade meals and soups to members of the congregation and to community neighbors when they are in need of support; at any time, these meals are available in the church kitchen's freezer.  Approximately 300 meals a year are delivered to those needing care. In addition, approximately twenty quarts of soup are given away each month. The Deacons use the proceeds from the sale of about twenty-five quarts of soup monthly to help support the Child Development Center and various church programs.
Home Communion
Communion is offered by the Pastor and Deacons to members and friends of the congregation in their homes in the Santa Fe area.  To arrange this service or to obtain more information, please contact Krista Peterson.
Memorial Service Receptions
Deacons serve as greeters and ushers for memorial services at the church.  After these services, receptions are provided by the Deacons for members and friends of the church. Please contact Krista Peterson for more information.
Sunday Service Care
Caring for members of the church who attend Sunday services and need help into the sanctuary is provided by the Deacons each week.   The Deacons also deliver flowers used in the sanctuary to those who are ill and homebound.   During the worship service, they help with serving communion.
Third Sunday Lunch
Every third Sunday of the month, a lunch is held at a local restaurant, which offers social opportunities for singles, the elderly, and others in the congregation.  The Deacons plan, arrange, and host this event.
You Call, We Haul Program
This program provides trucks and manpower to members of the congregation for moves and other odd jobs within Santa Fe.