WE BEHOLD
"If Presbyterians don't support Presbyterian mission, who will?"
Michael and Rachel Weller, Presbyterian Missionary workers in Ethiopia
First Presbyterian Church continues to provide monetary support to international missions.
Cuban Presbyterian Churches
We support Cuban Presbyterian Churches through our giving to a special offering each year, as well as through providing regular support for our sister congregation in Sagua La Grande.
Fair-Trade Store
First Presbyterian Church has an area in the main lobby of the church where fair-trade coffee and olive oil can be purchased on Sundays during the coffee hour.  These products are purchased from Café Justo and Zatoun.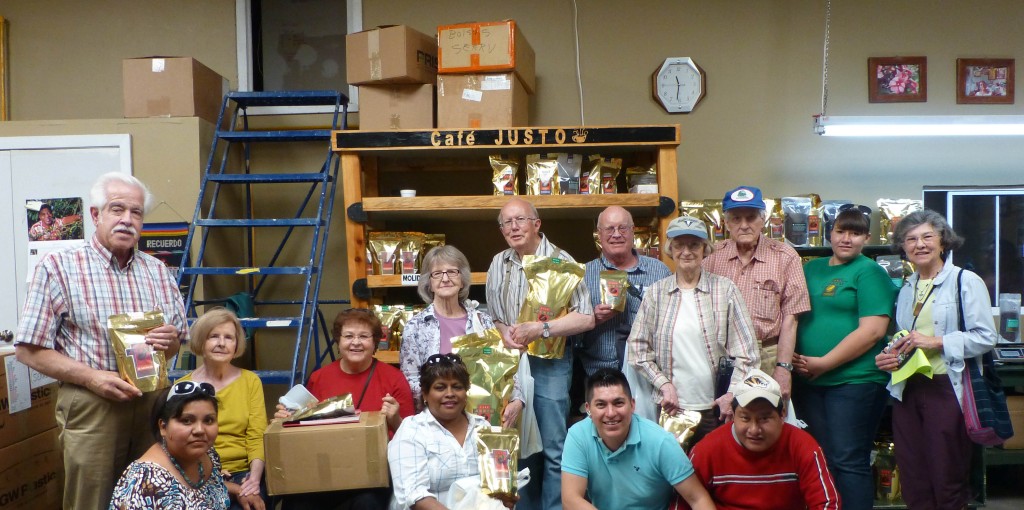 Café Justo is a coffee growers' cooperative based in Salvador Urbina, Chiapas, Mexico. The coffee is grown, harvested, and marketed with the goal of allowing growers to remain on their land. Last year the proceeds from coffee purchased by members of the church sponsored fellowships that helped three families in the cooperative.
We also sell delicious Zatoun Olive Oil in support of farmers in Palestine and of peace in the Holy Land.
Mission Work and Support
The church's support of international programs spans a variety of causes.  We support groups working in the Arizona desert that supply water to immigrants along the border area with Mexico, send funds to Presbyterian mission workers in Peru, and help a non-profit organization in Hungary that resettles refugees.
Migrant Quilt Project
Los Desconocidos (The Unknown) and the Migrant Quilt Project was founded in Tucson by a group of volunteers who work to sustain the lives of migrants who cross the border in the Sonoran Desert with little water, food, and aid.  The group cares about the injustice of migration in a global economy.  Since 2007, the group has cleaned up numerous sites, where migrants leave behind all their possessions before they continue the next leg of their journey.  These campsites are scattered throughout the vast deserts along the border between Mexico and the United States.  Los Desconocidos recycles the items, including water bottles, plastic bags, food containers, clothing, and shoes, found at the campsites. Many volunteers clean the desert campsites while other volunteers embroider quilts for the Migrant Quilt Project to honor the men, women, and children who have perished along the border between Mexico and the United States.
In 2016, a group of women from the church, led by Betty Kersting, offered to make a quilt as part of the project.  The quilt is made of fabrics found at the campsites and of materials from Mexico and Central America; it is embroidered with the names of 68 individuals who died while crossing the border during the period 2000 – 2001.  Betty Kersting was instrumental in its design, which includes images of the center altar from Our Lady of Guadalupe Church in Santa Fe and of a campsite near Arivaca, Arizona.
The quilt was completed in May 2017 and will be sent to Tucson, where it will join the Migrant Quilt Project traveling exhibition.