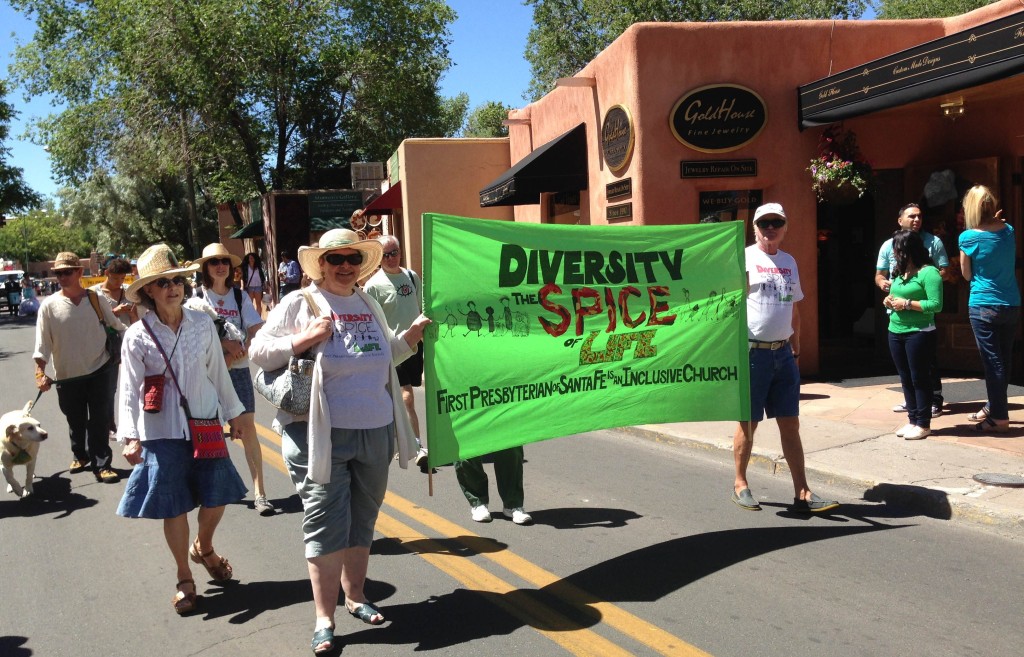 WE GIVE TO CAUSES THAT SUPPORT
HUNGER, HOMELESSNESS, HEALTH CARE, EDUCATION
First Presbyterian Church is committed to causes that promote responsible living, are effective witnesses of faith, and produce measurable results.  We are committed to support many organizations that directly impact lives of those living in Santa Fe, New Mexico, with approximately 25 percent of our budget allocated to homeless efforts in Santa Fe.
For the Hungry
Bienvenidos Outreach, Inc.
Bags of groceries are collected monthly from church members and are distributed to those in need by Bienvenidos Outreach, Inc.,  a community organization in Santa Fe whose mission is to reduce hunger in Santa Fe.  Approximately 225 bags of food are collected annually and distributed to those in need.
Feeding Santa Fe
Feeding Santa Fe , Inc., started in this church, is a non-profit, all-volunteer organization. Its mission is to provide supplemental food on a routine, scheduled basis directly to hungry families and individuals and through other service organizations in the Santa Fe area.
Juntos los Miercoles
Juntos los Miercoles operates during the school year and offers hot dinners, fresh groceries, parent workshops, and classes for children.  The church is involved in serving dinner to the group once a month during the school year.
For the Homeless
Adelante
Adelante's mission is to strengthen opportunities for Santa Fe Public School children and youth experiencing homelessness so that they may reach their educational potential and achieve life success. It provides these services to homeless students, their siblings, and their families: innovative bilingual services, material assistance, free tutoring, a food pantry, transportation, advocacy in the schools and communities, case management, access to emergency funds, weekly programs for homeless families (Juntos los Miercoles), and enriching after-school program assistance.
The Interfaith Community Shelter
Working with volunteers and community groups, The Interfaith Community Shelter provides short-term survival services and additional long-term services in collaboration with the city of Santa Fe and local service provider partners.  It also provides active service experiences for volunteers.   Volunteers from the church prepare lunch each Friday for the shelter's clients and provide dinners for an entire week twice a year.
For Health Care
Solace Crisis Treatment Center
The Solace Crisis Treatment Center responds to the needs of individuals who are in crisis or suffering from trauma. It is a state-of-the-art non-profit agency, located in Santa Fe, that combines the healing power and the services of a specialized clinical team, advocacy center, and education and prevention experts to help survivors and the community restore strength in the face of adversity.  It provides services to those affected by PTSD, rape, or domestic violence.
For Education
Interfaith Coalition for Public Education
The Interfaith Coalition for Public Education is an initiative to mobilize citizen volunteers to support the Santa Fe Public Schools and maximize the full potential of every child through advocacy, research, classroom assistance, service coordination,  and resource development.
Interfaith Leadership Alliance
The Interfaith Leadership Alliance (ILA) was established in 2007 to address social and economic injustice in our community.  The ILA partners with schools, community agencies, and social service organizations to bring greater resources and support to the Santa Fe community.
English Language Learners Program
The church, in partnership with Westminster Presbyterian Church,  presents a program once a week during which dinner is served and classes in learning the English language are held for children and youth.  This program takes place at Westminster Presbyterian Church.