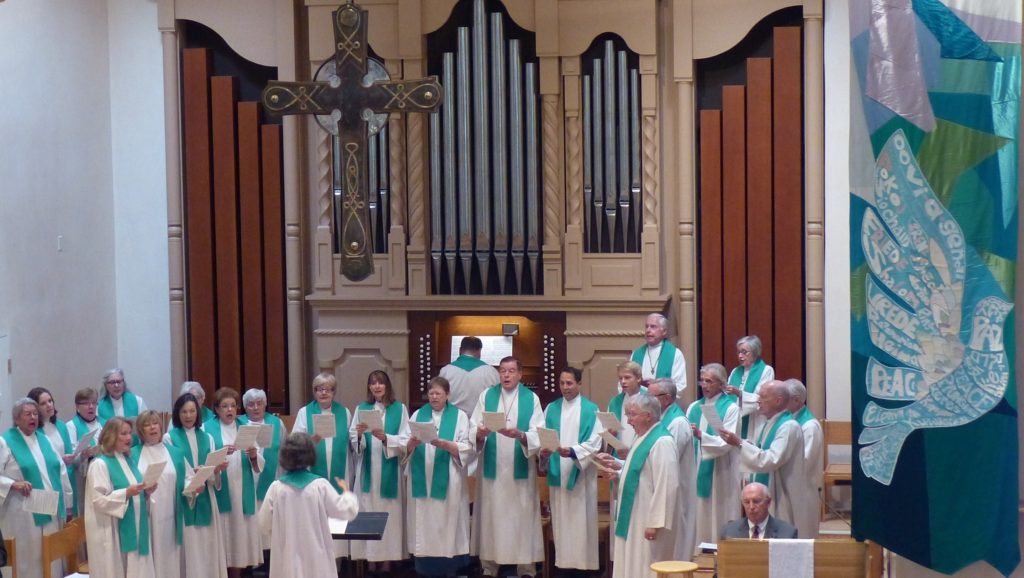 The Chancel Choir of First Presbyterian Church is a group of singers that provides music for Sunday morning services throughout the year.  In addition to singing hymns with the congregation during the services, the group performs a significant piece of music for each Sunday service and provides choral responses during the service, when appropriate.  If you enjoy singing, we encourage you to join the choir.  If you enjoy listening, we hope to see you at services and special concerts.  The choir seeks those who are accomplished singers and who would like to contribute to the musical life of the church.  Please submit a choir registration form, available from Linda Raney.
Fall, Winter, and Spring Schedule
The choir sings at Sunday services from September through early June.  Anthems sung for Sunday services are associated with the liturgical season and are an important part of the service.  Every year the choir prepares a special piece for presentation on the Sunday celebrating All Saints' Day; in 2017 it will be John Rutter's Requiem.  The choir also presents special music on appropriate seasonal days during Advent, Christmas, Lent, and Easter, as well as performing on the TGIF Concert Series.
Choir Rehearsal Schedule
The choir has a robust weekly rehearsal schedule.  The rehearsal schedule for the 2017-2018 year is:
Soprano and Alto sectionals: Tuesdays 5:00-6:00 (beginning September 5)
Tenor and Bass sectionals:  Wednesdays 1:30-2:30 and Thursdays 5:00-6:00 (beginning September 6 and 7, respectively)
Choir rehearsal:  Thursdays 6:00-8:00 (beginning September 7)
Sunday pre-service warmup and rehearsal:  10:30-10:55 (beginning September 10)
Sectionals are held in the Music Room, and tutti rehearsals are held in the sanctuary.  Additional rehearsals are scheduled on Saturdays from time to time when preparing for special services or concerts.
Summer Schedule
Sectional rehearsals are held during a portion of the summer preparing music for the next choir year.  This summer's rehearsal schedule runs from July 12 through August 13.  Tenors and basses will meet on Wednesdays from 4:15-5:15, and sopranos and altos will meet on Thursdays from 5:30-6:30.
Summer Sundays Music
Our church is fortunate to participate in The Santa Fe Opera's Apprentice Program that provides churches in Santa Fe with singers for their Sunday services during the summer.  These young singers share their extraordinary talents with the congregation and are always welcome by the congregation.
Autumn/Winter 2017 Chancel Choir Schedule
All Sunday Services are at 11:00 am, except where noted.
Date
Time
(other than 11am)
Seasonal Day
Anthem
Composer
September
10
Ave Verum
W.A. Mozart
17
With One Voice
Mark Singleton
24
This We Know
David Brunner
October
1
O Sacrum Convivium
Linda Beck
7
Saturday
9:00 am to Noon

Chancel Choir Retreat
8
The Gift to Be Simple
Bob Chilcott
15
Salvation is Created
Pavel Tschesnokoff
22
You are the Peace
Alan Smith
29
Ubi caritas
Guy Forbes
November
5
8:30 am
11:00 am
All Saints' Day
Requiem 1, 3, 4, 5, 6, 7
John Rutter
12
A New Commandment
Thomas Tallis
19
Sicut Cervus
Giovanni Palestrina
26
Christ the King
King of Glory
Thomas Bell
December
3
Advent 1
Lift Up your Heads
Andreas Hammerschmidt
10
Advent 2
Thou Shalt Know Him
Mark Sirett
17
8:30 am
11:00 am
Advent 3
Lessons and Carols
Magnificat
Gerald Finzi
24
11:00 am
Advent 4
tba
tba
24
10:00 pm
Christmas Eve
O Magnum Mysterium
Morten Lauridsen
31
Christmas 1
Away in a Manger
Bob Chilcott
2018 Special Sundays
April 1
8:30 am
11:00 am
Easter
July 29
11:00 am
Chancel Choir
Ask Sunday
Concerts in 2018
January 12
Friday, 5:30
TGIF
Requiem
John Rutter
March 30
Friday, 5:30
TGIF
Good Friday
Passion According to St. Luke
Heinrich Schütz
June 8
Friday 5:30
TGIF
Kettledrum Mass
(Paukenmesse)

Franz Joseph Haydn
Sanctuary Practice Schedule
Our sanctuary and organ are scheduled in advance for practice sessions.  Please contact Linda Raney to schedule practice time.