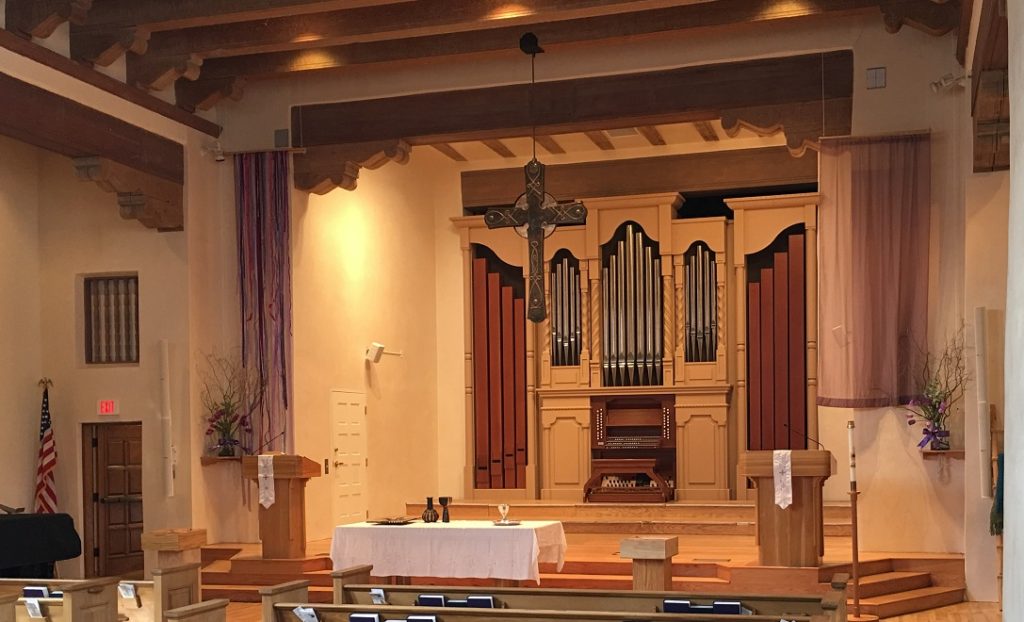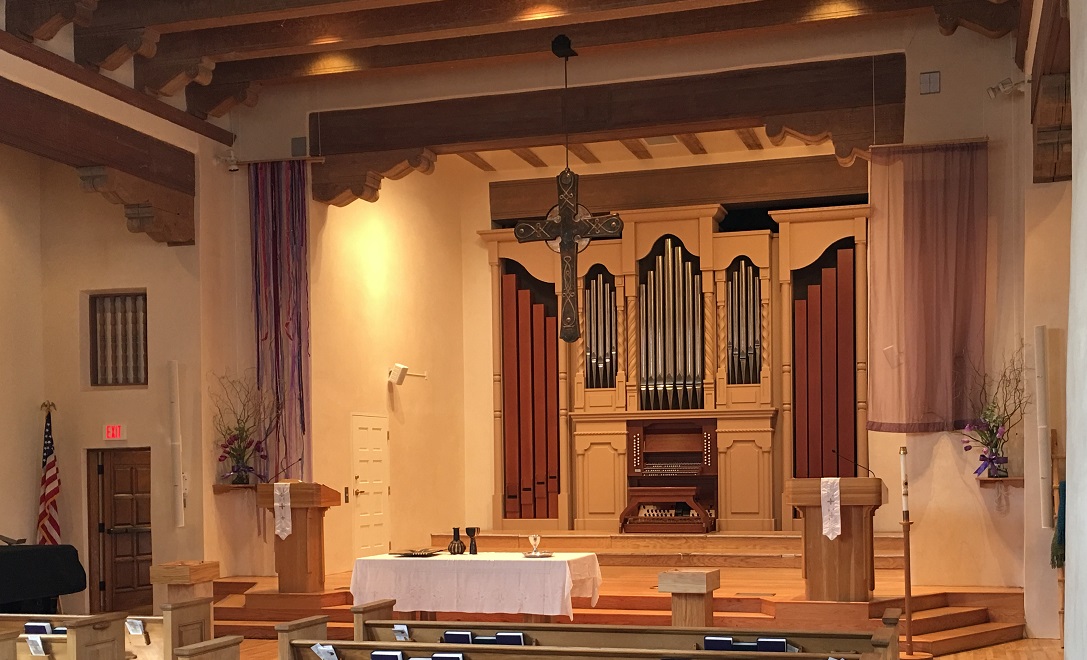 The C.B. Fisk organ (Opus 133) has enhanced the sanctuary of First Presbyterian Church since 2008, when it was installed by C. B. Fisk, Inc. of Gloucester, Massachusetts.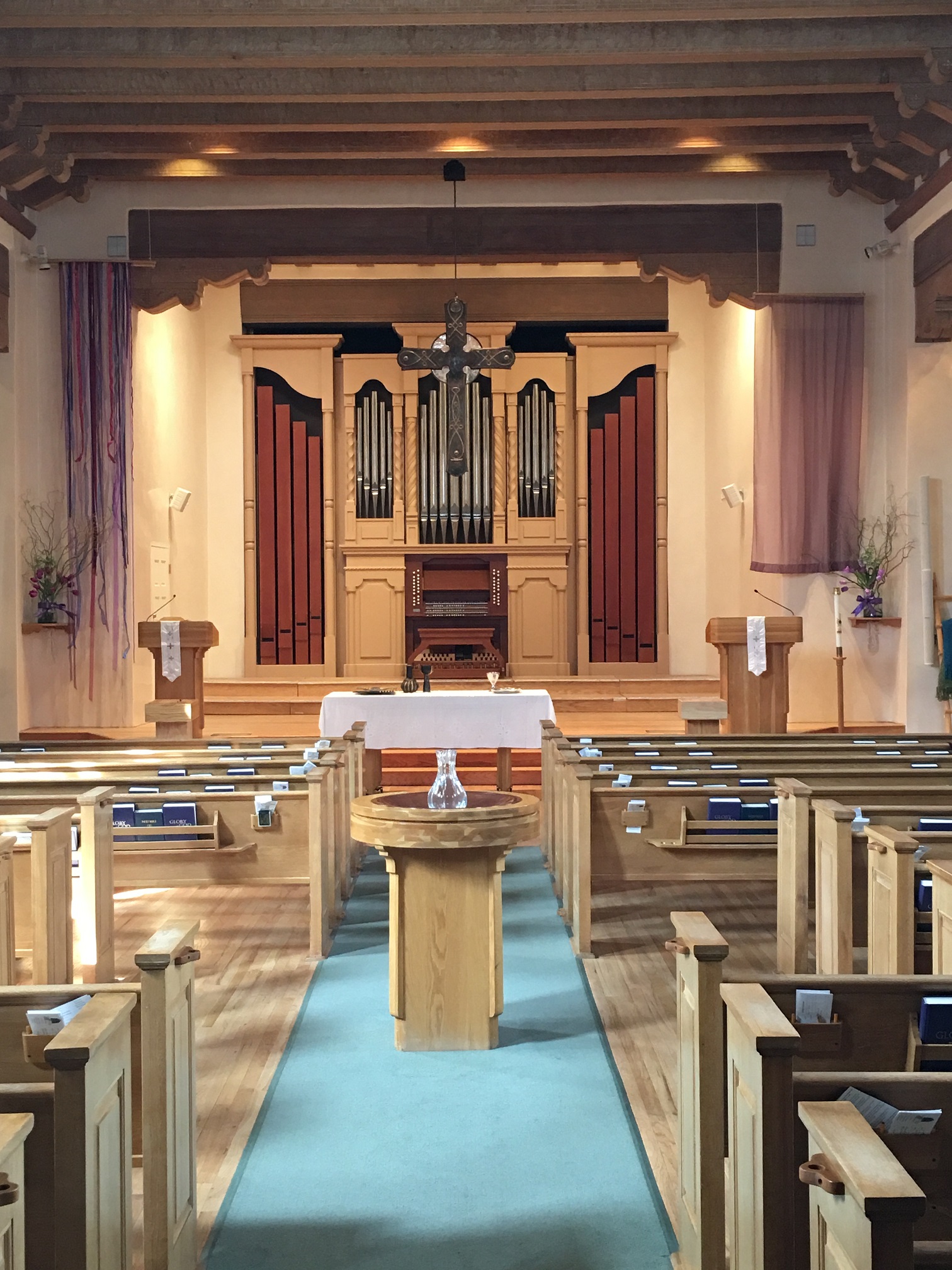 A dedicated group of members of First Presbyterian Church had the foresight and made the commitment to complement the historically significant church structure designed by John Gaw Meem with an equally outstanding musical instrument, designed and built by one of the finest organ makers in this country.
When the tracker organ arrived in Santa Fe in February 2008, with its components having been trucked from Gloucester, the congregation participated in unloading the truck of its 2,065 wood and metal pipes, ranging from sixteen feet to three-eighths of an inch long.
The Fisk is a tracker organ, which has its pipes sounded through actions controlled directly by the organist's fingers and feet, using a system of mechanical connections to each pipe, rather than by electricity.
After a six-month installation process, a dedicatory organ recital was held on October 12, 2008.  Since that time, it has graced our sanctuary for services and recitals.
Stoplist and Specifications
Great, manual I
Bourdon 16'
Prestant 8'
Salicional 8'
Spillpfeife 8'
Octave 4'
Rohrflöte 4'
Superoctave 2'
Mixture IV-VI
Trumpet 8'
Swell, manual II, enclosed
Violin Diapason 8'
Voix céleste 8' (from C)
Stopped Diapason 8'
Prestant 4'
Flûte octaviante 4'
Nasard 2 2/3'
Octavin 2'
Tierce 1 3/5'
Plein jeu IV
Basson 16'
Trompette 8'
Hautbois 8'
Solo, manual III
Harmonic Flute 8'
Cornet V (from c1)
Trumpet 8' (from Great)
Cromorne 8'
Pedal
Contrebasse 16'
Bourdon 16'
Octave 8'
Bourdon 8' (from 16')
Octave 4'
Posaune 16
Couplers:
Swell to Great
Solo to Great
Great to Pedal
Solo to Pedal
Swell to Pedal
Solo Super to Pedal
Swell Super to Pedal
Controls:

Tremulant

Wind Stabilizer

Balanced Swell Pedal
Key action: Direct mechanical (tracker), except for certain large bass pipes.
Stop action: Electric with a modern multi-level combination action
Keydesk: 61 keys CC-c4, grenadilla naturals, rosewood sharps capped with cowbone; pedalboard 32 keys CC-g1
Casework: A single case with façade pipes of wood and metal, standing in the front of the sanctuary, designed to harmonize with and adorn the historic Mission church interior.
Learn more details about the instrument and the building process.