Travis Bregier
Assistant Choir Director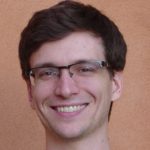 Travis Bregier is excited to join the music staff of First Presbyterian Church as Assistant Choir
Director. You can find him assisting with Sunday services and with chancel choir and handbell
rehearsals. In addition to supporting the music programs at First Presbyterian, he is teaching
private piano and voice lessons, singing with the Santa Fe Symphony Chorus, and working with
the Santa Fe Symphony Orchestra in their Music Mentor Program in the public schools. He is
also singing in the chorus of Opera Southwest's current production, "Guillaume Tell."
Travis moved to Santa Fe a year ago from Fargo, ND. In Fargo, he attended North Dakota State
University, where he earned both his bachelor's and master's degrees in vocal performance. As
a student of Dr. Robert Jones at NDSU, he performed solo recitals, featuring music from the
Baroque to the twenty-first century, and appeared as a soloist in Handel's Messiah. He also
performed as a soloist in Europe with the NDSU Concert Choir while touring Croatia and Italy.
Travis appeared in operatic roles on the stage of the NDSU Festival Concert Hall, including Dr.
Falke in "Die Fledermaus" (2011), a priest in "The Magic Flute" (2013), the Learned Judge in
"Trial by Jury" (2014), and Peter Quince in "A Midsummer Night's Dream" (2015). Travis was a
first-place finalist in the National Association of Teachers of Singing ND regional competitions in
2010, 2011, and 2013, and in the graduate division in 2015, allowing him to compete in the
semi-final round at the National NATS student auditions that same year.