Friday, December 29, 2017 — 5:30 pm
Music of Dandrieu, Bratt, Fleury, Thomas, Moore, Fletcher, and Gigout
Program:
Carillon ou Cloches
Jean-François Dandrieu (1682-1738)
A Little Christmas Quodlibet
Rosa Mystica, Trad. German
Bleak Mid-Winter - G. Holst, 1906

Lo, how a Rose e'er blooming

Quodlibet
Silent night, holy night
The first Noel
C. Griffith Bratt (1914-2014)
O come, all ye faithful
André Fleury (1903-1995)
Good Christians all, rejoice
Quentin Thomas (b. 1972)
Little Jesus, sweetly sleep
Philip Moore (b. 1943)
We three kings of Orient are
Andrew Fletcher (b. 1950)
Rhapsodie sur des Noëls
Eugène Gigout (1844-1925)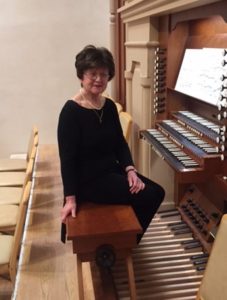 Jan Worden-Lackey has been a professional church musician for more than 50 years. She graduated with a Master's Degree in Harpsichord and Piano Performance from Southern Methodist University and was the first Harpsichord graduate student of Dr. Larry Palmer. Her organ study was with Dr. Susan Ferré and Dr. Larry Palmer, and she holds the Choir Master Certificate from the American Guild of Organists.
Jan has played numerous harpsichord, organ and early music concerts in Dallas, Santa Fe and Albuquerque. She has performed with the Santa Fe Symphony, Canticum Novum and the Santa Fe Desert Chorale.
She is the former choir accompanist for First Presbyterian Church, Santa Fe.