Fisk Festival @ First
presents
Kimberly Marshall
in concert
Friday, November 2, 2018 — 5:30pm
Music of Bach, Sweelinck, Correa de Arauxo, Couperin, Sandresky, Rheinberger, and the Buxheimer Orgelbuch
on the C.B. Fisk, Opus 133
In Memoriam: Remembering the Past
Prelude in E minor, BWV 548i
Johann Sebastian Bach
(1685-1750)
Three pieces from the Lochamer Liederbuch (c. 1452)
Mit ganczem Willen wünsch ich dir
Domit ein gut Jahr
Wilhemus Legrant

Variations on "Mein junges Leben"
Jan Pieterszoon Sweelinck
(1562-1621)
Tiento XXIII de 6° Tono sobre la Batalla de Morales
Francisco Correa de Arauxo
(1583/4-1654)
Excerpts from Messe des Paroisses
Fugue sur la Trompette
Récit de Chromhorne
Elevation: Tierce en taille

François Couperin
(1668-1733)
Mass "L'homme armé" (1979)
Introit (Entrada)
Kyrie
Gloria
Credo
Sanctus
Agnus Dei

Margaret Vardell Sandresky
(b. 1921)
Praeambulum super mi
Redeuntes in mi
Buxheimer Orgelbuch (c. 1455)
Passacaglia from Organ Sonata 8, op. 132
Josef Rheinberger
(1839-1901)
(
pdf of concert program
)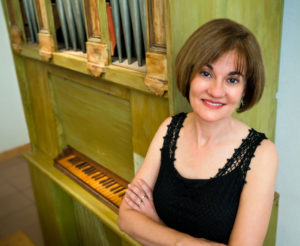 Kimberly Marshall is known worldwide for her compelling programs and presentations of organ music. She is an accomplished teacher, having held positions at Stanford University and the Royal Academy of Music, London. Winner of the St. Albans International Organ Playing Competition in 1985, she has been a recitalist, workshop leader and adjudicator at 7 National Conventions of the American Guild of Organists.  From 1996-2000, she served as a project leader for the Göteborg Organ Research Center (GOArt) in Sweden.  She currently holds the Patricia and Leonard Goldman Endowed Professorship in Organ at Arizona State University.
Kimberly's compact disc recordings feature music of the Italian and Spanish Renaissance, French Classical and Romantic periods, and works by J. S. Bach.  Her most recent recording, Recital in Handel's Church, includes music by Bach and Handel on the new instrument in London at St. George's, Hanover Square. Her recording of Arnolt Schlick on the 500th anniversary of its publication (2012) and a CD/DVD set entitled A Fantasy through Time (2009) received great critical acclaim.  Her expertise in medieval music is reflected in her recording, Gothic Pipes, as well as through her scholarly contributions in such publications as the Grove Dictionary of Music and the Oxford Dictionary of the Middle Ages.  To increase awareness of this repertoire, she published anthologies of late-medieval and Renaissance organ music in 2000 and 2004.
Kimberly Marshall is often invited to perform at conventions and festivals. During the summer of 2013, she appeared in Amsterdam, Seoul and Sweden; in 2014, she was a featured artist for the National Convention of the American Guild of Organists in Boston, as well as on performance series in England, Germany, France, New York and San Diego.  During the summer of 2015, she was on the jury for the Schnitger International Organ Competition, where she performed on the earliest surviving instrument in the Netherlands, built in 1511. In 2016 Kimberly played concerts in Seattle, Philadelphia, Bolivia, Amsterdam and Vienna, while her engagements in 2017 included the opening recital for the AGO regional convention in Salt Lake City and one of the inaugural recitals of the new Paul Fritts organ for the Basilica at the University of Notre-Dame.