Friday, February 9, 2018 — 5:30pm
Music of Regino Sainz de la maza, Isaac Albeniz, and Francisco Tarrega
Program:
Petenera – Regino Sainz de la maza (1896-1981)
Zapateado
Leyenda – Isaac Albeniz ((1860-1909)
Cadiz
Recuerdos de la Alhambra – Francisco Tarrega (1852-1909)
Capricho Arabe
Sevilla- Isaac Albeniz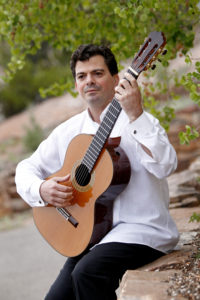 Born in São Paulo, Brazil, Roberto Capocchi is "a really fine guitarist with a sound to die for" (Open Arts Foundation), whose playing has been described as "a delight for the senses and the spirit" (El Imparcial, Hermosillo).
After winning a string of guitar competitions in Brazil, Mr. Capocchi received a graduate scholarship to the University of Arizona, and later studied privately with Jorge Caballero. He has performed in concerts and competitions in the United States, Canada, Mexico, and Belgium, and has recorded three CDs of solo and chamber music. The Arizona Daily Star said he "showed off solid classical guitar chops in a passionate, intense performance" of Rodrigo's "Concierto de Aranjuez" with the Southern Arizona Symphony Orchestra. Recent collaborations include a concerto performance in Santa Fe with conductor Oliver Prezant and concerts with the Pleiades String Quartet, harpsichordist Kathleen McIntosh, and flutist Tracy Doyle.
Mr. Capocchi lives in Santa Fe, NM, where he collaborates with local performance organizations, such as the Santa Fe Chamber Music festival, Santa Fe Opera, New Mexico Performance Arts Society, and Santa Fe Desert Chorale. He is artist-in-residence at Adams State University and currently teaches at the Santa Fe Guitar Academy.