Friday, February 2, 2018—5:30pm
Medieval Ballads from Scandanavia, France and Scotland
Program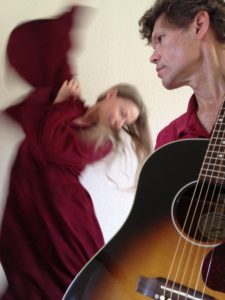 Search – Verses from the Finnish epic Kalevala
The songs of the Kalevala have lived in oral tradition for centuries, maybe as far back as the Bronze Age. Elias Lönnrot wandered around Finland in the 19th century and collected a large number of these songs which he compiled into the epic Kalevala.
Les Tristes Noces – A traditional ballad from France
Ballads are narrative songs. It is hard to pinpoint the exact origin of them as they have traveled far and wide. Versions of the same ballad can often be found all over Europe, in North America as well as in the Middle East and Asia.
Skön Anna – A medieval ballad from Finland
In Scandinavia the ballads show influences both from Norse sagas and from the European ballad tradition. This particular ballad can be found all over Europe as well as in North America. We will perform a version from Swedish speaking Finland and a version from Sweden of this song.
Binnoorie – A traditional ballad from Scotland
This is a version of Child ballad no. 10. Francis James Child anthologized a large number of English and Scottish ballads and their American variants during the 19th century.
Paris and Helena – A medieval ballad from Norway
This is medieval ballad from Norway telling a version of the story of the Trojan war.
Tilili – A medieval ballad from Norway
In this Norwegian medieval ballad we hear the story of a young girl riding away with "The Mountain King", a supernatural being who would sometimes bewitch and abduct young women.
The Artists
Scott and Johanna are a duo who perform early traditional Scandinavian/Celtic ballads and tales.
Their wanderings have led them from Finland and Iowa respectively – through Europe, Scandinavia, India, and the U.S. On the way they have picked up tales and songs that they perform together with the stories behind them, in particular exploring the links between Scandinavian, Celtic, North American and other story singing traditions.
Their performances have been described as magical, inspiring, haunting, mesmerizing …
"… the Hongell-Darsees summon ancient characters from the depths of our collective unconscious and bid you take leave of the modern world and join your ancestors, huddled together in a hut around a fire as the storyteller makes the hair on your arms stand straight up." (Mel Minter, Musically Speaking, Albuquerque, NM)
Their CDs have been nominated for 2 New Mexico Music Awards and their songs can also be found on numerous traditional music compilations.
After relocating to New Mexico from Scandinavia in 2001, Scott and Johanna have performed all over the U.S. at festivals, theatres, arts councils, universities, schools, libraries, and live broadcasts including:
• Provincetown Playhouse and Scandinavia House, NYC
• Outpost Performance Space with AMP Concerts, Albuquerque, NM
• Folk Festivals: Traditional Music Society, Los Angeles, CA; and Albuquerque, NM
• Scandinavian Festivals: Atlanta, GA; Los Angeles, CA; Thousand Oaks, CA; and Lindsborg, KS
• Storytelling Festivals: Los Angeles, CA; Four Corners, NM; Taos, NM; and Albuquerque, NM
• Universities: NYU; UNM, ENMU, San Juan College and College of Santa Fe, NM; UA; Coe College, IA
• NPR Affiliates, KUNM, KSFR, WFHB
• TV 2KASA Morning Show
• New Mexico Humanities Council – Inducted as scholars in 2005
Johanna (vocals, woodwinds, research, translation, arrangements) was born in Finland. Apart from music she has a background in theater and dance. She studied theater in France and Bharata Natyam dance in India. She has worked as a performing artist for over 30 years in Scandinavia, Europe, India and USA.
Scott (stringed instruments, arrangements, composer) was born in USA. Before relocating to New Mexico, he spent 16 years in Europe, where parallel to his artistic work he worked as a therapist at ballet companies such as Dance Theatre of Harlem, London Festival Ballet, English National Ballet, Royal Danish Ballet and Hamburg Ballet, and also taught at Danish State School of Modern Dance.
Link to video
Link to website
Link to Facebook Page